The creative path and professional realization of Giorgio Armani
Giorgio Armani is a legendary personality in the fashion world, he has a perfect sense of style and clearly knows what the client needs. His career of couturier developed rapidly, but had its ups and downs.
Armani was born in a small Italian town in 1934. As a young fashion designer he wanted to be a doctor, so he went to university. However, in two years of study he realized that this profession was not for him.
After leaving the university, Giorgio had no idea what to do next, and he went into the army to take a break and to find his bearings. Upon his return, the young man became interested in photography. He actively developed his skills and tried different kinds of photography. In the art of photography Armani made progress, he chose original angles in order to get more artistic pictures. Seeing the young man's work, an acquaintance offered him a job as a window dresser in a department store.
The decor of shop windows and the store in general allowed Giorgio to realize his creative ideas, he experimented with styles and textures. This did not remain unnoticed by the owner of the department store, who singled out the talent of the future couturier and charged him with the plans of purchasing products from Japan and India. Armani began to compile collections of clothes, and soon he was immersed in the world of fashion. He liked picking up shades, styles and combining accessories. Then Giorgio thought about making his own clothes.
In 1961, the young man began working as an assistant to the fashion designer Nino Cerruti. Together they worked on new models of dresses and suits, patterns and presentation. Then there was a collaboration with Zegna and Ungaro.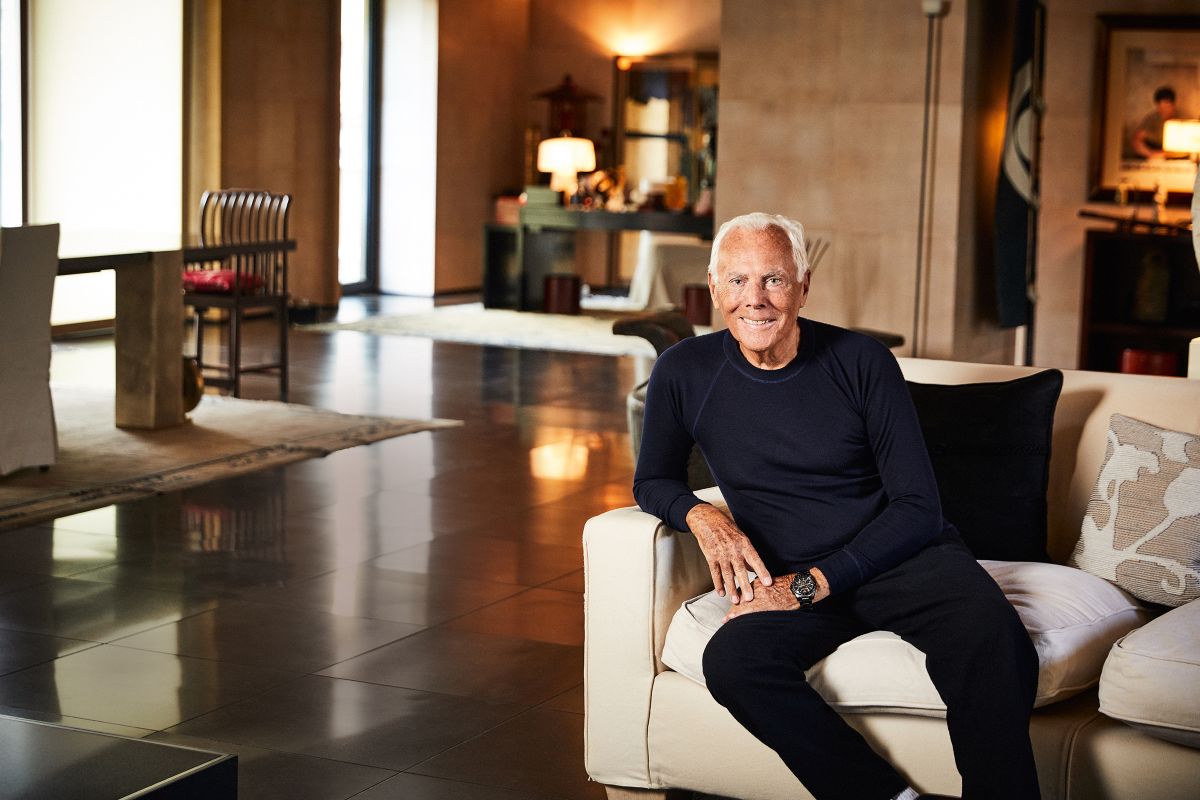 Armani started working independently in the 1970s, he sold his sketches to the famous fashion houses. The couturier presented his first collection in 1974, and not only consumers but also experts liked it. A year later, Giorgio teamed up with his friend Sergio Galeotti and together they founded Giorgio Armani s.p.a. Company.
Thanks to the hard work and search of fresh ideas in a few years the brand became known outside of Italy. Accessories and jewelry appeared in the assortment. In collaboration with L'Oreal, Armani released cosmetics and perfume.
Business was expanding, and the designer decided to divide the production in the directions, so that the separate division would deal with clothes production, and the other – with perfume. Each direction had its own brand, for example, Armani Collezioni, Armani Junior and others.
Clothing and accessories of Armani are still a great success; regularly at the Oscars celebrities walk the red carpet in outfits from this brand.