Who is Charles Koch and his contribution to the family business
Charles Koch is a well-known American businessman who created the Koch Industries Corporation. In addition to entrepreneurship, he is active in political and social activities and takes part in various charitable programs.
Charles Koch comes from a family of immigrants from the Netherlands who settled in Kansas. His father ran an oil refinery. Despite the fact that his parents were well-off, they taught their son to work from an early age. From the age of 6, Charles was working practically all day long, which taught him diligence and perseverance to achieve his goals. As a parent himself, Koch similarly raised his own children.
In 1956, Charles earned a master's degree in engineering from the prestigious MIT University and took a job with the consulting firm Arthur D. Little Inc. He did not work there long, however, and returned to his hometown two years later to take over the family business. Charles' father passed away in 1967, and the young man took over the business. The company was renamed Koch Industries. The shares of the business were divided between Charles and his three brothers. In 1983, he and his brother David purchased their share from the relatives for $1.1 billion, but the proceedings on this issue lasted a long time. The point was made in 2001, when Charles and David paid the brothers another 25 million dollars.
In the 70's and 80's the company was actively developing, new refining facilities appeared in the U.S. and other countries. By 2000 the staff of Koch Industries was more than 17,000 employees, and by 2009 reached 120 people working in 60 countries. In addition to oil refining, the corporation was engaged in chemical production, electronics, agriculture, and provided financial services. According to the Koch brothers, about 90% of profits they reinvest in business development.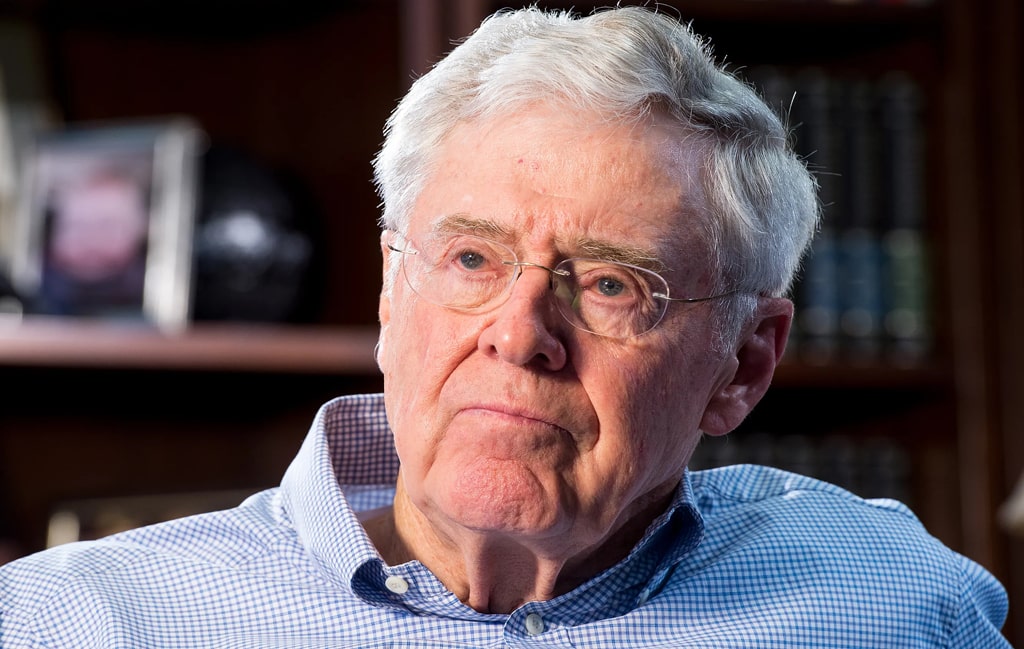 Now Koch Industries is one of the three largest private corporations in the United States. It includes oil refineries, polymer fiber plant Invista, the factory Georgia-Pacific, which produces pulp and paper products and other units.
Charles cites a thoughtful corporate culture as one factor in its success. There are virtually no fixed salaries at Koch's companies; here, salaries depend on an employee's performance and the value he or she brings.
Koch is an active political figure, a supporter of the conservative party. In the 1970s, Charles and his brothers were among the founders of the libertarian institute. This institution is dedicated to the dissemination and implementation of economic freedoms.