Advertising backpacks received investment: details of the project from BackAd
Russian startup BackAd has received investment from HD Outdoor operator. The details of the deal are not disclosed, but it is known that 40% of the shares of the promo platform was transferred to the investor, and the rest of the assets are divided among the founders. The received money will allow improving advertising backpacks, increasing their number and improving their functionality. The developers are planning to introduce new functionality – real-time tracking of the promotion campaign.
The company HD Outdoor is engaged in outdoor advertising, it places it on the infrastructure of "Aeroexpress", towers "Moscow City", broadcasts videos on the screens that are in the supermarket chain "Pyaterochka".
Startup BackAd provides advertising campaigns on backpacks, which are equipped with HD screens. This allows the broadcast of various banners, gamification elements and video content. In June the platform launched the official sales of such backpacks, before that they were tested.
BackAd provides services in the form of a contract, where it pays for each viewing of ads, which are directed to the audience through an antenna and Wi-Fi sniffer for a distance of 15 meters. The functionality of the promotional platform allows you to monitor the implementation of the advertising campaign in real time. You can see how the banner on your backpack looks like, how well the video is broadcasted, the route. In addition, the program allows you to get analytical data, such as the frequency of contracts, social characteristics of the audience. This and other information can be found in your personal cabinet. The maximum coverage for a month is almost 1.4 million people with 50 backpacks.
The idea of creating BackAd belongs to 3 entrepreneurs. Now the company cooperates with 200 couriers who wear backpacks on 350 routes in Moscow. For advertising backpacks they use Full HD resolution screens created by the founders of the startup.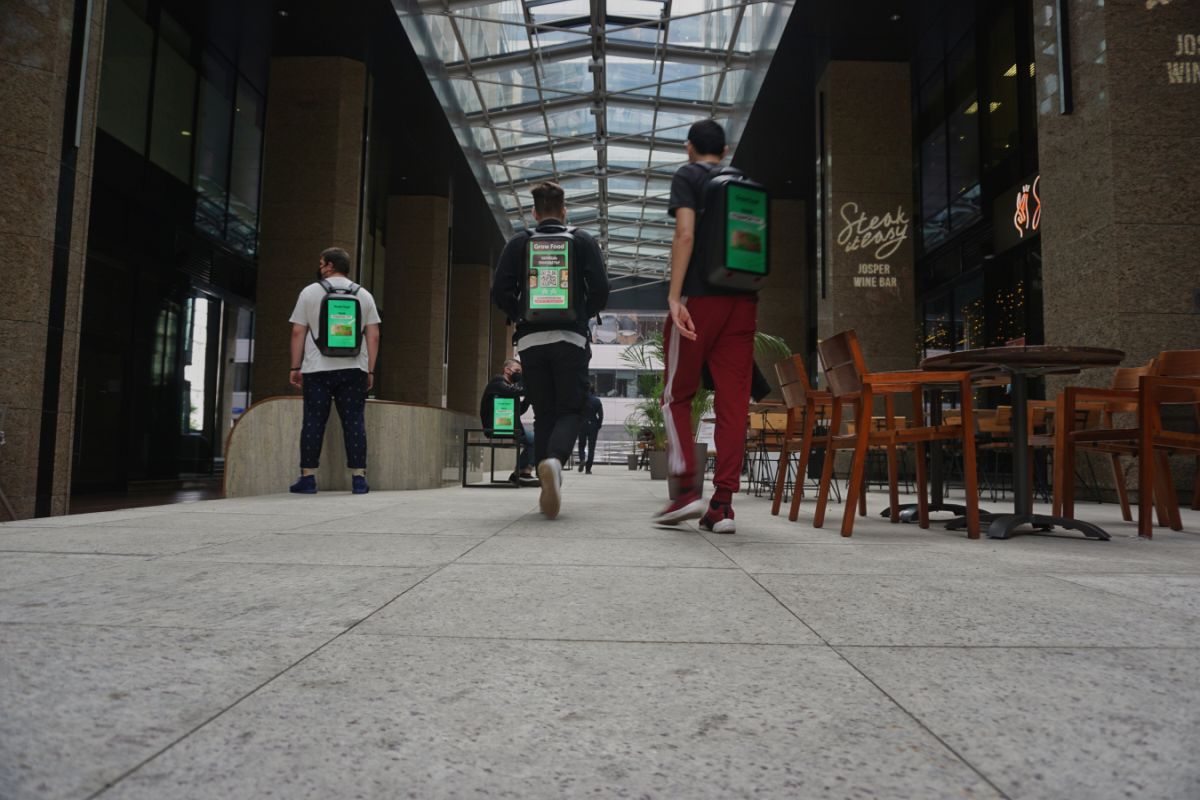 The first tests were carried out, broadcasting the promo of their own company, it turned out that this option works perfectly. The backpack allows you to carry out advertising campaigns in those places where other options do not work, for example, in a stream of pedestrians. Such original couriers became quickly popular among people – they were actively photographed and posted on social networks, which made BackAd quite famous. The first client of the startup in December last year was the company "European Media Group", which learned about the promotional platform through multiple reposts. Next was an online store and a developer.
The advertiser can target his content depending on the interests and activity of users of a particular location. Rollers can be changed online, for example, if a courier from one district of the city has moved to another.
The route is automatically generated by BackAd functionality, based on thermal maps with information about the density of people in different places.