Foreign share trading on the Moscow Stock Exchange: details of an innovation
The Moscow Exchange has expanded its services and facilitated transactions. In summer trading in foreign shares, which are part of the S&P 500 index, began on the site. The launch process was carried out in two stages: the first 25-30 securities were admitted to trading in the summer, and in the autumn 20 more became available.
The exchange management is not going to stop at this number of shares, and plans to expand the list of companies whose securities are available for the participants of the trading floor in Moscow. In this case, the management has decided not to enter into contracts with issuers of shares, liquidity is ensured by market makers. The latter are brokers who work with the stock exchange through a special agreement. The duties of the market makers include the functions of increasing the supply and demand of shares, as well as maintaining quotations. For example, if such a broker opens a position for a large number of securities, he will have to buy them in the original market. Market makers at the Moscow Stock Exchange are both local and foreign persons.
In addition, the trading platform allows to conduct repo transactions with shares of foreign companies, where the central counterparty is the National Clearing Centre, which is one of the units of the exchange group. This allows trading participants to provide or borrow securities to make settlements through this scheme.
All transactions are conducted in roubles. This practice is used at many exchanges, when national currency participates in settlements at trades. At the same time, dividend payments are made in dollars.
It is necessary to note that the Moscow stock exchange intended to enter operations with 50 most liquid stocks of the foreign companies in 2018, however then there were certain difficulties, and procedure has been postponed. The main reason was a shortage of market makers.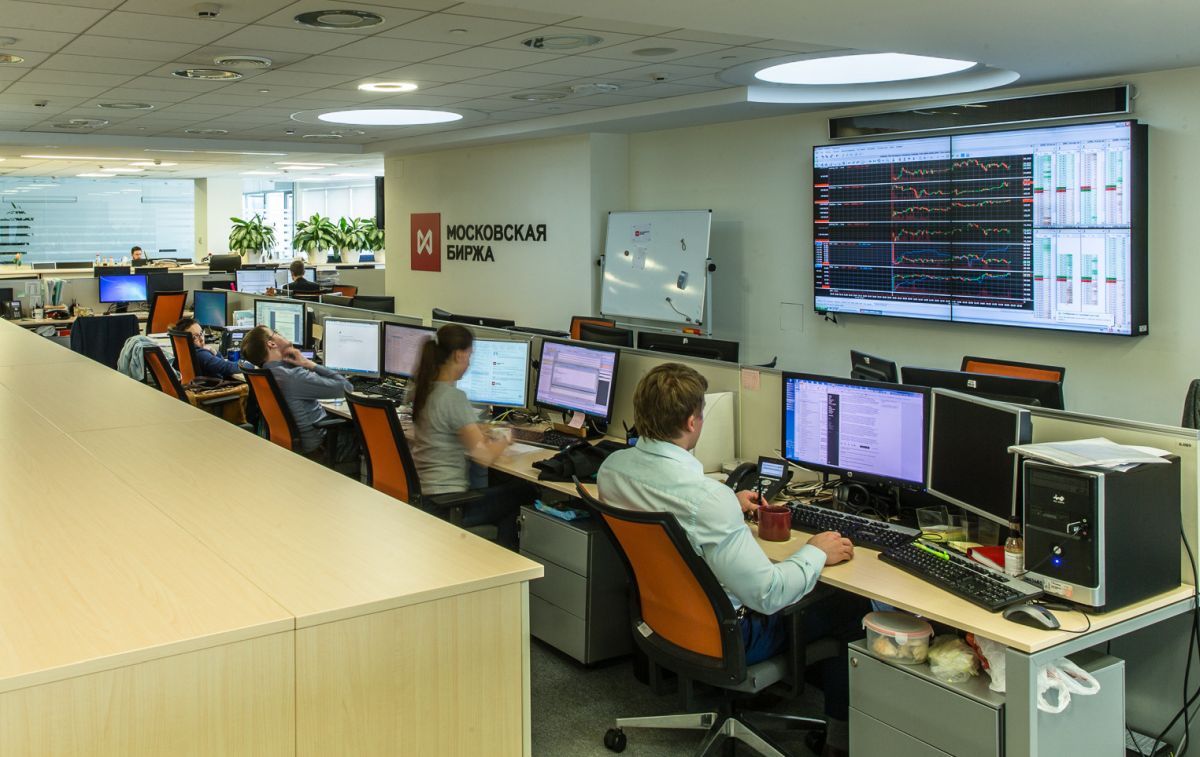 Activities on the trading floor are organized according to the standards adopted in this area. Accounts here are opened not for clients, but for brokers, who work on behalf of the first. Money is kept in a cash account, while securities are kept in a depot. Brokers use sub-accounts to organize and control client assets.
In order to close a transaction, the broker must have the amount necessary for the trading operation in the form of financial resources or shares.
The exchange implies the use of several modes of operation, the main one implies a number of moments:
applications at the site are unaddressed, which allows any investor to accept them;
trades are anonymous, only the transaction volume and price per 1 share are known;
transactions are carried out automatically when the site receives orders from two participants that coincides in value. This scheme is called order-driven market.
In addition to this trading mode, other options are available at the Moscow Stock Exchange, such as repos with shares or bonds.