How Philips began and its success
Philips is an example of how a small family business has grown into an international corporation. Techniques under this brand are recognized all over the world and are a symbol of quality and reliability.
The history of the company began in 1891 in the Netherlands with a father and son Philips, who produced incandescent bulbs. Initially, the company employed only 10 people, and sales were extremely scarce. The situation was remedied by the youngest son in the family, also brought into the business. He had excellent managerial skills, easily had customers and knew how to sell goods. Thanks to Anton Phillips, the company became known outside the country, and in a short time it was the leader in the production of countries in Europe. The staff at the factory numbered 400 people, and in 28 countries were opened representative offices of Philips.
In 1918 the company presented a new product for the medical field – an X-ray tube. The given direction the corporation develops and to this day – it produces various equipment for the health care system.
In the 20's the world was stunned by a new invention – the radio, and everyone understood the potential of this discovery. So in 1923, Philips developed the radio recorder, and a couple of years later introduced radio receivers.
World War II ruined the company's plans for the development of the television line. During the fighting, a large number of Philips factories were destroyed.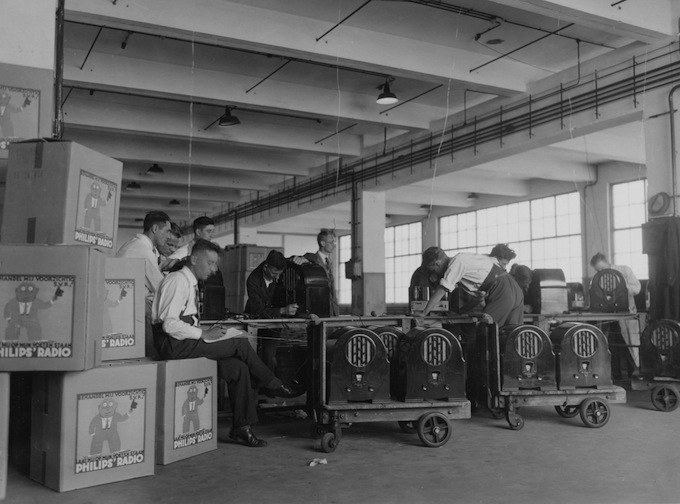 However, this did not break the business leaders, and gradually restoring capacity, by the 1960s the corporation had taken a leading position in the television equipment market, leaving the UK and the USA behind.
Another important milestone in the company's development was the transistor, introduced in 1954. The element was crucial in microelectronics and replaced the lamps, which were then used in many devices. At that time this invention was a real breakthrough. In 1963, Philips released the compact cassette, as well as the cassette player and the VCR.
The corporation also developed a line of consumer goods. Electric shaver Philips has been to space, she lit in the movies about special agent James Bond.
The company supplies medical equipment for home use, ultrasound and patient monitoring. Philips is considered a leader in manufacturing equipment for emergency care, cardiology, and patient care.
The corporation has modern research centers, which annually make out a huge number of patents on this or that development. Philips consumer products in the field of self-care, home appliances are popular around the world. The company's facilities are located in many countries, including the United States, Israel, Germany and others.