Harland David Sanders and his unique chicken recipe
The KFC fast food chain is popular far beyond its home country, the United States. The logo with the smiling old man with glasses is known to all lovers of appetizing chicken dishes, but not everyone knows that it is the image of a real person. Harland David Sanders, or Colonel Sanders, is the author of the signature recipe for spicy breaded chicken that is served at the restaurant chain.
Harland was the owner of a small diner near a gas station in Kentucky and a part-time chef. That's when he came up with his original chicken recipe. The dish quickly became popular not only with locals but also with visitors to the diner. Sanders was a respected man in the state, for which he was awarded the honorary title of Kentucky Colonel by the governor.
Born Harland in 1890 into a farming family, having lost his father at the age of 6, the boy had to work from an early age and help his mother with the younger children.
Before finding his calling, Sanders managed to work in many fields. He was a farmer, a stoker on the railroad, and an insurance agent.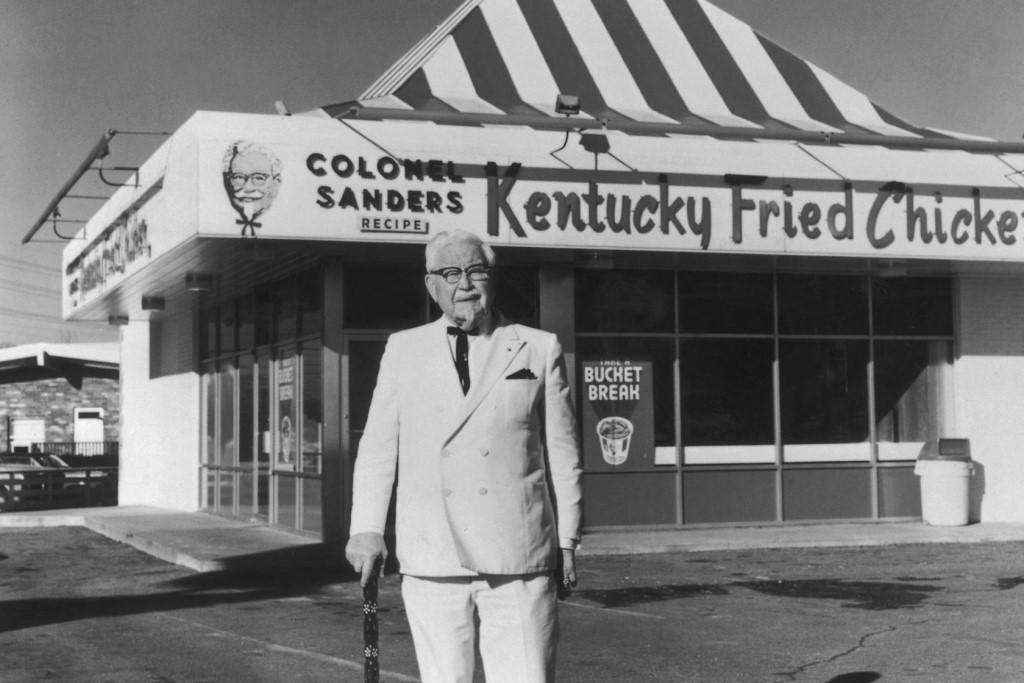 The real success came with the purchase of a small diner where chicken with a unique recipe was the specialty. When business picked up, Harland expanded his eatery by moving it to a separate building. In 1935, five years after the diner opened, Sanders and his chicken were known around the country. The name of the restaurant was Kentucky Fried Chicken and it had 142 customers.
Later the name was shortened to the now familiar KFC, and by 1953 Harland began offering a franchise brand. At the same time he did not stop improving his recipes and expanding the range of dishes. Another advantage of KFC was that meat here was cooked very fast thanks to the use of high pressure, which accelerated frying. As a result, more customers could be served in a shorter time.
In 1955, Colonel Sanders sold his first restaurant and began traveling around the country, giving master classes at KFC establishments. In 1966, Harland disposed of his share in the chain as well, gaining $2 million for it. At the same time he continued to promote the brand and give master classes until his death in 1980. His image was easily recognizable and had a way of drawing people in. And even 40 years after the founder's death, the KFC fast food chain is popular all over the world, and its chicken is still cooked according to Colonel Sanders' original recipe.