How to identify the bearish engulfing pattern
The bearish engulfing pattern is characterized by a two-cell pattern, where one of them engulfs the other. In this case, the "bearish" one takes precedence over the "bullish" one. Such a variant is considered a reversal pattern, which means the weakening of the bullish trend at its peak.
You do not need special skills to identify the presence of a bearish engulfing on the chart. In most cases, the model is at the top but may occur below. If a red candle appears on the chart, which replaces the previous similar figure of green or red, then it is a bearish engulfing. It is important to understand that one candle overlaps only the body of the other, their shadows are irrelevant in technical analysis.
A trader who sees a bearish engulfing pattern on the chart should conclude that the upward price trend is falling and that a reversal is coming soon. When comparing this pattern with other factors, the best decision will be to open a deal to sell the asset.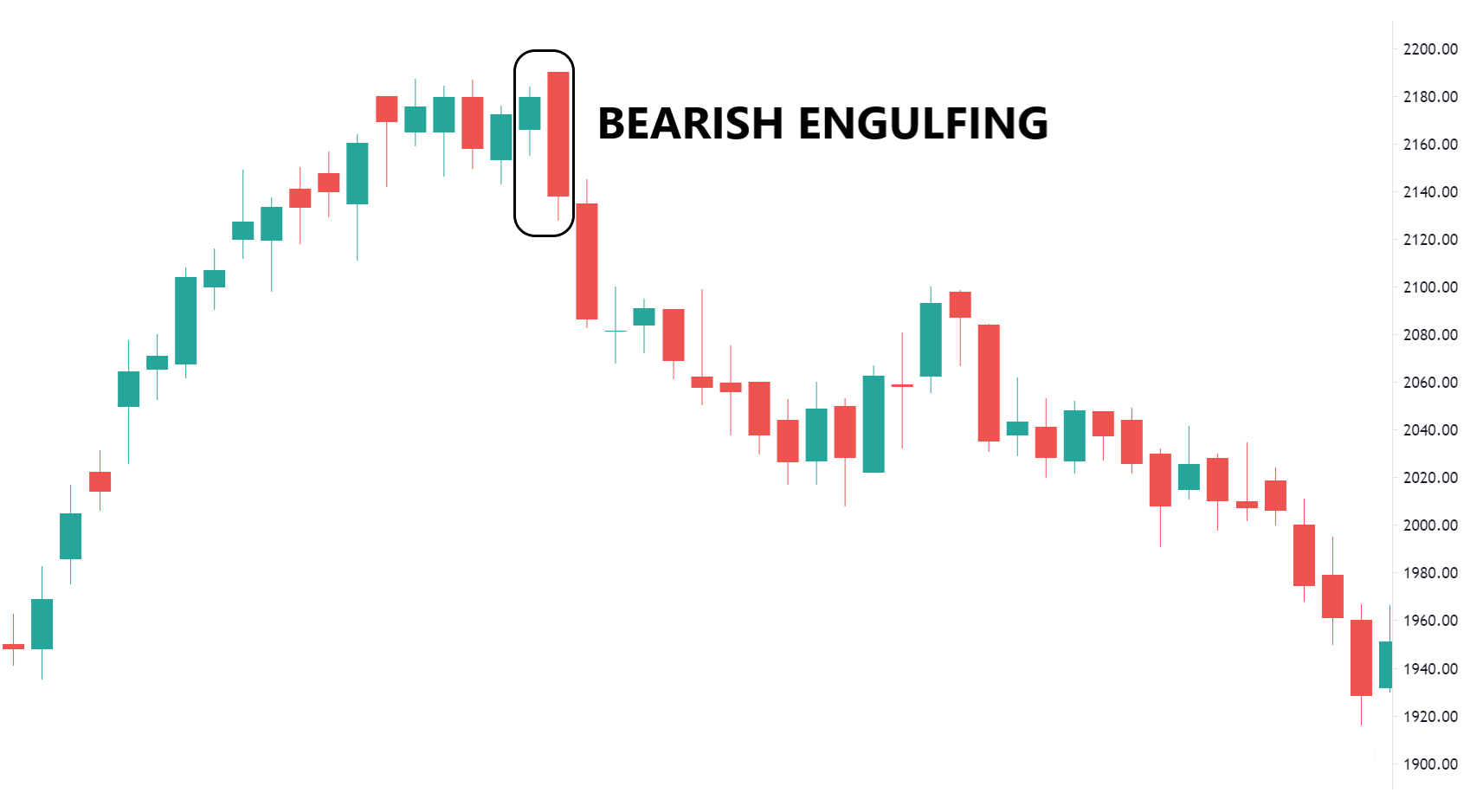 The bearish engulfing is inherent in various financial markets, and it should be familiar to many traders. In addition, the pattern can be seen on the charts of securities taken over different periods of time – a day or a week. In the presence of the pattern in the commodity market, it is possible to close a successful transaction in the future, which will bring good profits. However, in this case, it is better to count on the long term.
By analyzing engulfing patterns, be they bearish or bullish, it is possible to understand in advance how the price will behave – whether there will be a reversal or a pullback. Such charts reflect the market sentiment, which is important for a trader to consider when building a trading strategy.
In addition to the bearish, there is a bullish engulfing. The first one usually appears after the sharp price jump and indicates a reversal in the opposite direction. The bullish engulfing may be seen after the downward movement was observed in the market. In this case, the price reverses to the beginning of the trend.
This pattern is mostly inherent in the securities and commodities markets, but it also appears in cryptocurrency. In this case, the analysis of candlesticks can be carried out without the use of technical indicators. Many effective strategies are based on this pattern. For example, when a bearish engulfing pattern appears, it is possible to open short positions as long as the level of bullish resistance remains strong. It is also possible to trade with confirmation, when a bearish engulfing pattern is confirmed by other candlesticks, but only on the top.
When using this pattern, it is necessary to pay attention to support and resistance levels, using an asset on higher timeframes for this purpose. In addition, it is necessary to identify entry points for small timeframes.