The business model of Best Buy Co. Inc. as an example of successful retailing
The American corporation Best Buy Co. Inc. owns one of the largest electronics store chains. The retail is represented in the USA and Canada. The company has more than 100 stores in two countries, and in the near future – to enter the market of China and other countries. Best Buy owns various brands of home appliances – Dynex, Geek Squad, Insignia.
The history of retail began in 1966, when Richard Schultz and Harry Smolyak opened the Sound of Music store in St. Paul, where they sold audio recordings. A year later it was joined by Kencraft Hi-Fi and Bergo Company, which allowed to open 2 more stores. Gross revenue of the company for just one year amounted to 173 thousand dollars, which allowed it to become public by 1969 and introduce a stock options system. By 1970, the network included 5 stores, which provided income of 1 million dollars. In 1979 Sound of Music became the first in the American market to supply video products by Sony, Panasonic, Sharp and others.
In 1981, a tornado raged in Minnesota, which destroyed one store. To improve the situation, the company organized a Tornado Sale campaign, and since then it has been held every year.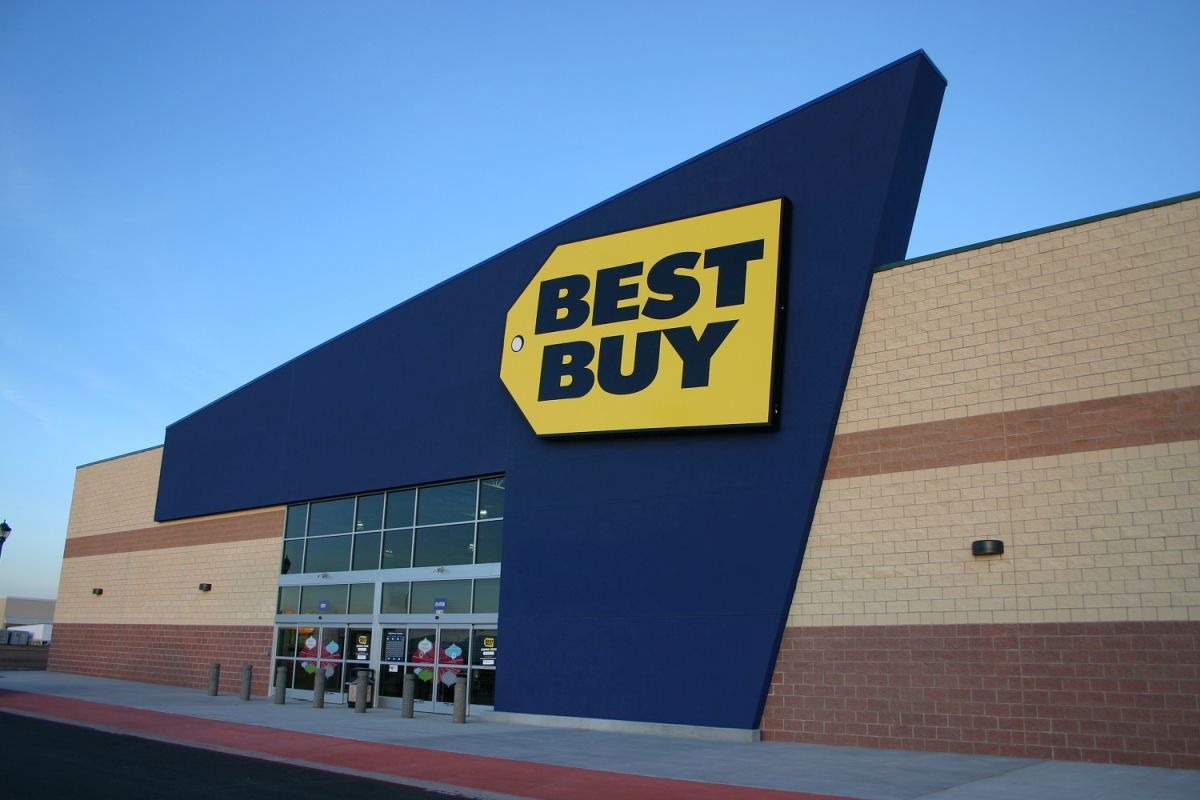 In 1983, Sound of Music changed its name to Best Buy Co. and opened the first hardware hypermarket. It featured a huge space with an expanded range of products, discounted products, and its own logistics center. The hypermarket specialized in home appliances.
Two years later Best Buy shares were presented on the New York Stock Exchange, where about 8.3 million securities were issued.
In 1989, the company introduced an innovation that was followed by other trading networks. In the stores, the buyer would take the necessary goods on his own and take them to the cash desk for calculation. At the same time, the number of sellers in the sales area decreased significantly, and information about the products became more numerous.
It was decided to upgrade Best Buy in 2012. As part of this strategy, 50 stores in the U.S. chain were closed. At the same time, the management was changed and the company's structure was revised. There was a wave of staff cuts in hypermarkets – about 2.5 thousand people were laid off. The step was dictated by the development of a new line of Best Buy Mobile, which saw great prospects for income.
Best Buy Corporation is unique in its kind. It managed to work out a special business model for the development of a chain of stores, which successfully functions, expands and generates revenue.